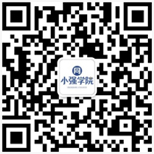 同天下"小强学院"
专为旅游人服务
扫码关注最新动态
【小强学院专访】这家境外地接社的互联网经营思维,很硬核
2020-04-29
【Interview with Xiaoqiang college】Hardcore! The amazing Internet business thinking of this overseas travel agency

孔子说,工欲善其事必先利其器
哈立德说,学会用工具,赚钱更轻松

哈立德是谁?
他是来自埃及的太阳帝国旅行社总经理,在同姐眼中,他是一位具有长远眼光的优秀战略者,他善用互联网思维来管理员工及经营业务。为更轻松高效地做好生意,进入中国市场18年来,他寻找过很多办公系统,一直不得解,直至遇见小强OTAS。

今天,我们和哈立德先生聊了聊,这个让他兴奋到跳舞的旅行社办公系统,以及他是如何让各地员工快速上手使用?如何通过系统做好管理及优化产品?

Confucius said, "good tools are prerequisite to the successful execution of a job."
Khaled El Kholy said, "tools can make money earning easier."

Who is Khaled El Kholy? He is the general manager of Solar Empire Travel. In my mind, he is a far-sighted and outstanding strategist who is good at managing his employees and business with internet thinking. To do business more easily and efficiently, since 18 years ago he entered Chinese market, he has started to search for office systems and haven't found an ideal one until he meets OTAS.

Mr. Khaled El Kholy was excited to dance when he found this office system of tourist agency. Today, we talked with Mr. Khaled El Kholy about this system, how he promoted his employees to get familiar with it quickly, and how to realize efficient management and product optimization through this system.



Wu Miaohua the founder of Xiaoqiang College had an interview with Mr. Khaled El Kholy from Solar Empire Travel.
小强学院:选择和同天下合作的原因是什么?如何带领团队把小强OTAS系统使用起来?采取什么措施?
Xiaoqiang College: Why do you choose Tontisa? How to guide the team to use Xiaoqiang OTAS? What measures can be taken?
太阳帝国旅行社总经理哈立德:

虽然我和同天下的团队都还未见面,但感情已经很深,因为我们都喜欢做事情。之前我用过很多线上的系统,但我还从没有看到过其它像OTAS这样的线上系统,可以让地接社从头到尾整个流程做出来,即使当时我还未深入看系统内部的罗辑,但我第一眼就认定就是这个了。
General Manager Khaled El Kholy of Solar Empire Travel: Though until now I haven't met the team of Tontisa, a deep affection has formed between us. That's because we both like making things. I've tried many online systems before, but no one is like OTAS which can allow the local travel agency to produce a beginning-to-end process. Even if I did not look into its internal logics, I knew that was the one I was looking for.
因为,OTAS系统的主线和逻辑是一条直线,100%完全符合我们地接社的业务流程,从报价、转到操作、付款、再到财务,到这OTAS还没有停下来,它的下一步就是数据报表,让我非常惊喜。每个环节衔接的距离是0 ,很顺,没有浪费一点时间,我一看到这一点,我就说这是我要的系统,我可以用。
Since the principal line and logics of OTAS follow one straight line, it completely conforms to the business process of our local travel agency, from quotation to operation to payment to finance. Moreover, OTAS does not stop here, and data report is at its next step, which really surprises me. Links are chained closely and smoothly with zero gap; there is no waste of time; I know from this point that this is the system I would like to use.
然后,如何让团队快速上手使用,这的确是一个挑战,因为老板和员工看待的角度是不一样的。老板思考的角度是这个系统是否能帮到他,而员工一般都不喜欢更换已习惯已经的方法。而我又是个不喜欢某件事我同事会我不会,所以,我个人要先懂系统,从如何报价到计调操作预定,再到财务、报表,每一个细节我都要熟悉,都要比我的同事先知道,掌握好了再让他们去学习和使用。
Then, how to promote the team to get familiar with it? This is indeed a challenge for a boss thinks in a perspective different from that of employees. The boss will think if this system is helpful for him, while the employees tend to be reluctant to change the way they've gotten used to. I am a person who does not like being ignorant of something well mastered by my colleagues. Therefore, I learned the system in advance and got familiar with each detail from quotation, operation, and reservation to finance and report; I learned all of these ahead of my colleagues, and after I mastered it, I then made them learn and use it.
另外,我也采用线上的方法来帮助同事学习,我把整个系统的每一段操作流程每个小细节都录下来,每个视频15-20分钟,再发给各地的同事去学习。每个视频的操作,都是把OTAS的功能和实际的业务套在一起的,可以帮助同事更快上手。
In addition, I also helped them through online ways. I recorded all operation procedures in videos, with each video being 15-20 minutes, and sent these videos for my colleagues to learn. The operation recorded in each video combines the functions of OTAS with practical business, and can help colleagues learn quickly.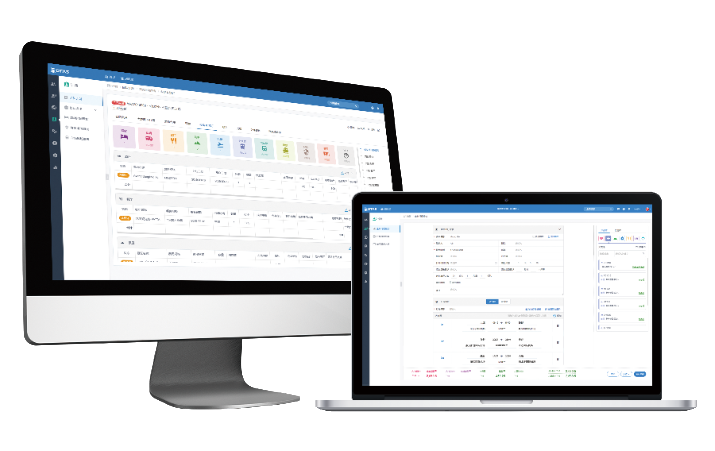 其实,刚开始同事们对换系统还是有点恐惧感。所以,我先把OTAS系统报价做出来的行程发给他们,然后问他们如果做和这个一样的行程大概要多久时间,所有人做出来能否一样。得到的结果是,在资源录入都准备好的前提下,他们可能还需要打字排版3-4个小时。但使用OTAS系统,不到5分钟就可以做完8天的行程。
In fact, my colleagues felt uneasy with the alternation of system. So, I firstly presented them the travel quotation made by OTAS, and then asked them how long it took for them to make a similar one and if all of them were able to make a similar one. Their answer was that on the premise that the resource input was done, it might take them another 3-4 hours for typewriting and composing. However, with OTAS, it only takes 5 minutes to complete a travel schedule for 8 days.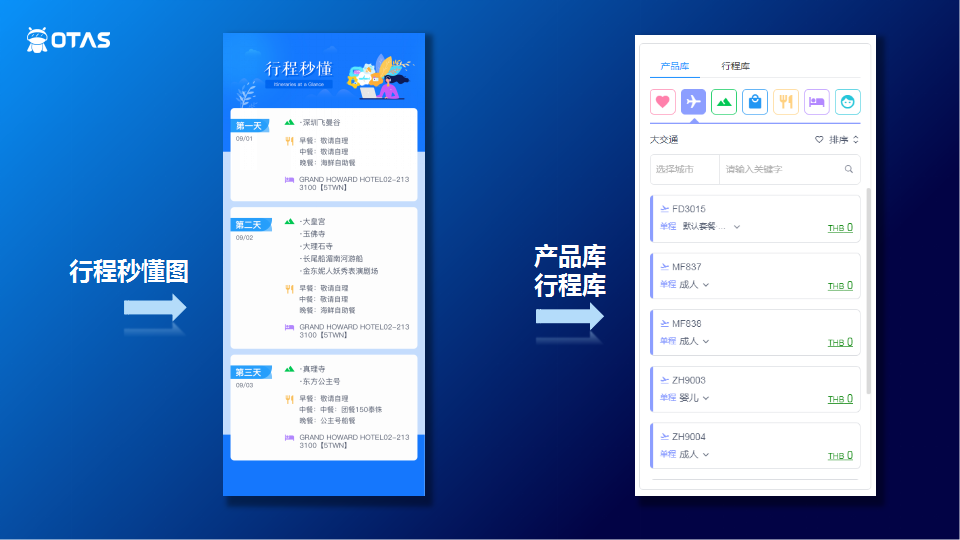 当他们看到这个时就没恐惧感了,甚至很好奇。然后,我再带他们看如何操作系统,他们一看就说太简单了,用鼠标拖拉的方法,把行程拖进来一丢,行程就出来了。效率太高了,这是一个梦。
This fact removed their concerns and even increased their interest. Then, I showed them how to operate the system. Upon watching the operation, they said it was simple; the travel schedule can be easily done by moving mouse. It is efficient, and like a dream.
北京和台湾先用OTAS,从换新系统到上手,用了差不多一个半月时间,这是在对系统完全陌生的情况下;后来在迪拜和埃及使用,一星期就能从0到熟练。这也是OTAS和其它系统所不同的,因为OTAS不用浪费时间去准备很多基本的信息,直接录入资源,就马上可以做报价了,直接到重点,所以一周时间就足够了。
We firstly applied OTAS in Beijing and Taiwan; it took nearly one month and a half from the alternation to my colleague getting familiar with it (on the condition that my colleagues were totally unfamiliar with this system). Later it was applied in Dubai and Egypt, and my colleagues started from scratch could get proficient in using this system within one week. This is where OTAS differs from other systems. OTAS saves us the time in preparing basic information; we can make a quotation after inputting the resources, and directly focus on key points; so one weak is enough.
小强学院:请问您最爱小强OTAS系统的什么功能?
Xiaoqiang College: Could you tell us which functions of Xiaoqiang OTAS you love the most?
太阳帝国旅行社总经理哈立德:

OTAS有两块我特别喜欢,它的报表很厉害,因为它不是固定的模式,它的报表是可以自己搭建的,自己决定怎么看公司的数据,这一点就非常非常厉害了。Sky把这个功能教给我以后,我很兴奋,马上去就做不同的报表,这是我以前一直想做的,比如哪些团队赚得多、哪些赚的少,是人数少还是人数多的赚得多,人数少的购物多还是人数多的购物多。
General Manager Khaled El Kholy of Solar Empire Travel: Two parts of OTAS are especially favored by me. Its report function is quite excellent; its pattern is not fixed, you can configure your own report pattern and determine by yourself how to view the company's data, which is really great. After Sky told me how to use this function, I was excited and immediately tried different reports; this is what I have always expected to do; for example, we can tell from these reports which teams make more profit, which teams make less profit, it is the team of fewer members or the team of more members that makes more profit, and it is the team of fewer members or the team of more members that purchases more.
就这简单的两个问题,财务估计要花1-2个月才能给我一个时间段的信息。现在不用问财务,我随时可以自己搭建我要的报表,数据一秒钟就出来了,现在变成我通知每个部门有出现什么问题,有什么缺点,哪里需要加强什么,而不是要他们提供信息给我,甚至报表我还可以告诉财务。
Just for these simple questions, it might take the finance department for 1-2 months to submit me relevant information for a certain period. Now, there's no need for me to ask the finance department about such information, and I can construct my own reports at any time; the data can be presented within one second. Now it is me who informs each department of their problems, defects, and points necessary to be strengthened; they no longer need to provide information to me, and I even can provide reports to the finance department.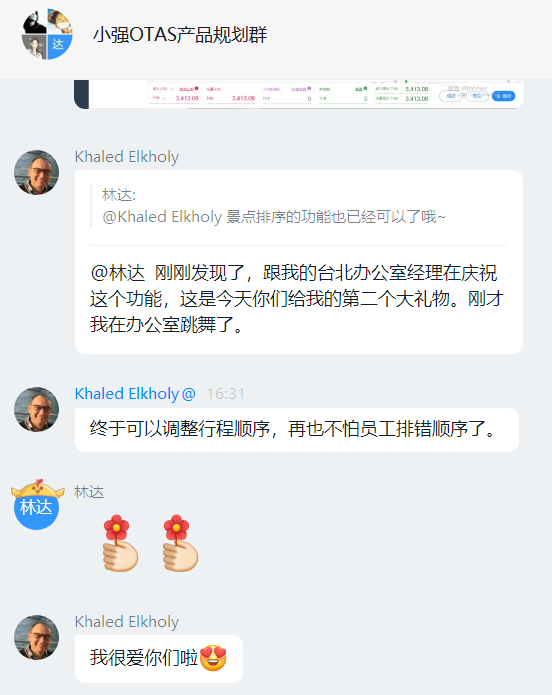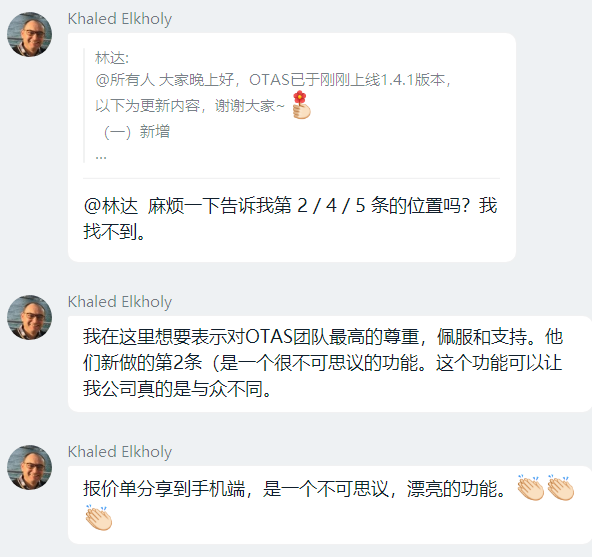 以前是凭经验来做事情,现在OTAS可以让我很清楚地知道客户喜欢哪些酒店,我该下功夫和哪个酒店更深入地合作,会知道广东人、上海人等不同地方的人喜欢哪些酒店,这些OTAS都能一秒给我数据。第一次Sky教我怎么做那些报表后,我开心得在家里跳舞跳了很久,因为这些数据是我一直想做但做不出来的。
Before I made decisions based on experience; and now OTAS enables me to know clearly which hotels are favored by our customers, with which hotels I should build deeper cooperation, and which hotels are favored by people from Guangdong, Shanghai and other places. OTAS can provide relevant data to me within one second. When Sky taught me how to generate these reports, I was so excited and even began to dance at home. Because I had always expected to gain such data, but had always failed in this respect.

另外就是,OTAS也可以让我很放心地用。一开始,同天下就建了个客户群,让大家把问题抛到群里,这个举措就让我100%认为你们是可靠的,因为你们不怕我们每天提问题出来,也不怕别的客户看到这些问题,你放着给大家看,让我很信任;而且,每次当我提出问题时,你们的同事都是抢着回答的,包括经理级和老板级的人,以前还没有哪个系统可以让我直接跟开发的人说话,而且还能马上回答我的问题,这点是我最喜欢的,让我很放心。
In addition, I feel assured with the use of OTAS. At the beginning, Tontisa has built a client group, in which all clients can pose their questions. This action of yours won my 100% confidence in you. We put forward questions every day and those questions can be seen by other clients, but you are not afraid of this, and allow all clients to see the questions, so I have a great confidence in you. Moreover, each time when I asked a question, your colleagues competed to answer, including those at the levels of manager and boss. Before no system allowed me to converse directly with the developers, and answered immediately my questions. I really like this feature of you and feel really assured.





小强学院:谈谈没用系统之前和使用后有什么不同点?
Xiaoqiang College: Could you talk about the change before and after your use of this system?
太阳帝国旅行社总经理哈立德:

变化非常大,比如我举个例子,以前我们销售给客户报价,前线的情况我是不清楚的,因为报价报错或者和客户沟通不好导致赔钱的情况,也是等团队回来一两个月后才能知道,然后才去分析为什么赔钱。
General Manager Khaled El Kholy of Solar Empire Travel: There is a great change. For example, on the occasion of our sales personnel quoting prices to customers, we sometimes need to compensate the customers due to incorrect quotation and failed communication with customers. I'm not familiar with the frontline situation, but the team generally learned about such a situation one or two months later after they came back, and then analyzed relevant reasons.
但是用了OTAS以后,我的员工还没报价给客户,我就能看到哪里有问题,可以马上收回报价做修改,运作的时效性非常快,而且全流程是透明的。现在我所有公司的运作都能看得很深,以前必须飞过去跟同事坐在一起聊,现在不需要,打开系统就能知道一切。
But after the application of OTAS, I can see which place is flawed before my employee quote prices to customers; then the quotation can be immediately withdrawn for modification. This operation is quite efficient and its whole process is transparent. Now, I can look deeply into all operations of the company; before I needed to fly to a place and sat together with my colleagues for a talk. Now, there is no need for me to do it, and I can learn everything by opening the system.
小强学院:希望小强OTAS辅助公司实现哪些发展目标?
Xiaoqiang College: What development goals do you expect Xiaoqiang OTAS to help you achieve?
太阳帝国旅行社总经理哈立德:

我希望做出很多以前做不到的,现在OTAS的人才已经能做出很多我还没想到的事情,让我很惊讶,我发现提出来的一半以上需求,他们的答复都是正在做,意思是他们已经提前知道了地接社的需求和变化。我还希望OTAS有一天可以帮我解决我的客户进来系统自己买行程、自己报价,把我们所有的产品提供给客户,由他自己来挑选。
General Manager Khaled El Kholy of Solar Empire Travel: I hope to realize some goals which were unachievable before. Now, the talents of OTAS have made some creations beyond my expectation and surprising me. I find above half my demands have already been listed in their schedule; this means they have predicated the demands and changes in advance. I also hope that one day OTAS can satisfy my following requirement, namely, after opening this system, customers can purchase their travel and read the quotations by themselves, while the system provides all our products for them to choose.
另外,怎么让我的导游、助理,在行动时所发生的事情,直接在系统上反映上去,坐在办公室的同事可以马上看到,也是我很希望做到的。当我说出这些需求后,发现OTAS的人都很接受,也很认可,很愿意做。所以我很放心也很喜欢,值得花功夫在这个系统上,我现在每天有6个小时都是盯着OTAS系统,也希望让更多人看到OTAS如何做出有特色的行程。
In addition, I also hope that OTAS allows the guides and assistants of my company to directly report the accidents occurring in a travel, and the information can be received by my colleagues in the offices. These demands are accepted readily and recognized by the staffs of OTAS. Therefore, I have a great confidence in it and really like it; this system is worthy of our time. At present, I spend 6 hours each day in OTAS, and hope more people can see how OTAS makes distinctive travel schedules.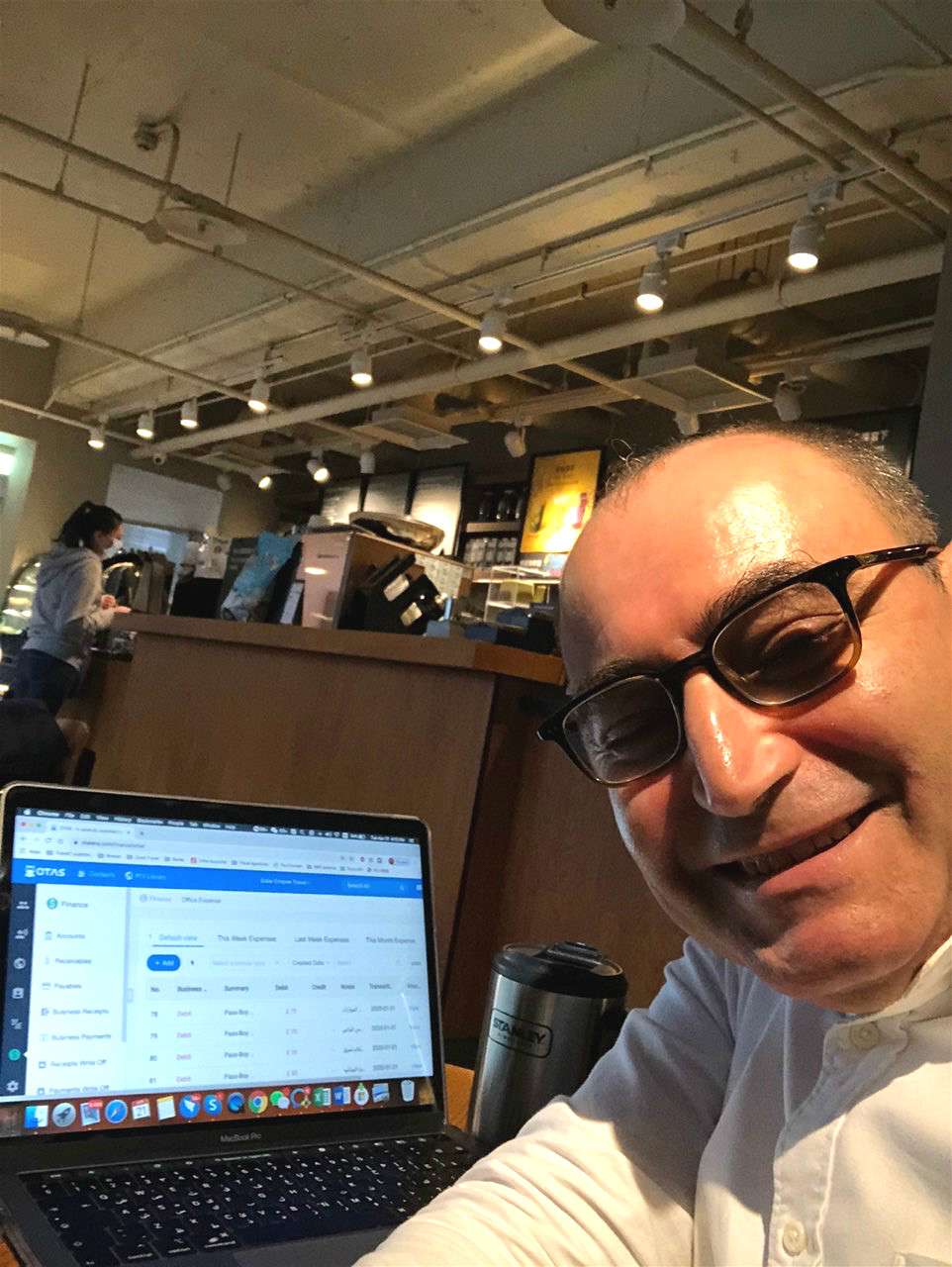 Mr. Khaled was working online with OTAS in a coffee house.
其实我们的运气非常好,刚好在疫情发生的时候,我们开始用OTAS,这段时间我们把系统先用熟练,疫情后我相信我们的效率会高很多。
In fact, we are very lucky for we started to use OTAS at the outbreak of this epidemic; during this period, we can get familiar with this system, and I believe after the epidemic, our efficiency will be higher.